"Cherish" Deluxe Range Vibrator
The Cherish is a top of the range vibrator found in our Deluxe range category, it has a strong 6 speeds that vary greatly for a totally customisable orgasm, this lets you take your time and relax while you lay back and enjoy the Cherish or if you're in a bit more of a rush its perfect for slamming it up a few notches and making quick work of yourself this becomes even easier with its 10 variation modes so you can always mix it up and never get tired of getting the same old feeling.
It's a funky and fun vibrator. Cherish is a beautifully designed sex toy that has a smooth silicone finish. It's perfectly contoured shape gives ultimate G-spot stimulation and the clitoral nub allows simultaneous pleasure. It has a medium sized shaft ready to give you hours of happy play-time! USB rechargeable for total convenience.
Great for spontaneous fun, this low-noise vibrator is great for using solo or with your partner during foreplay. Its waterproof silicone casing means you can even have fun in the water. The Cherish vibrator is a modern design with a beautifully soft silicone skin.
Lumina Spider suction fleshlight
The Lumina spider is a premium fleshlight. It is a big customer favorite featuring its extreme real feel vagina
texture that tightly moulds around your penis to create an insanely pleasurable experience for the user. It has a suction setting so you can totally adjust this fleshlight to your personal preferences for a totally customization orgasm.
Simply adjust the fleshlights' suction to your comfort for total pleasure control at your own comfortable pace, this fleshlight can help you achieve amazing orgasms. The Lumina Spider has a nondescript outer casing making it a pretty discreet looking accessory.
'Stig' 6.5″ realistic dildo
The stig is a strong dildo that provides excellent girth and length, comfortable enough for you to enjoy without been to big that it can cause discomfort or even pain, it has a life like touch and feel with its ribbed veiny shaft which won't leave you disappointed. This dildo is also great for both men and women as its vibration and texture is also great on the male prostate.
A very realistic looking manhood – this 'Stig' dildo has no alter ego! Our 6.5 inch veined vibrator with extra girth for that little bit more, is perfect for comfortable, exceptional penetration. The Stig dildo boasts an authentic texture, to provide authentic stimulation. Its soft "real feel" helmet is lightly ribbed to give remarkable pleasure all the way down its veined shaft. The 6.5 inch vibrating companion is waterproof and to be enjoyed anywhere!
Doc Johnstone Big Silver Butt Plug
Made to high quality standards the Doc Johnstone metal butt plug is the product to last. Choosing metal as the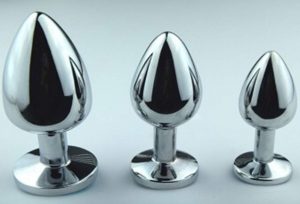 material means you get the amazing sensations a butt plug provides with the added sensation of temperature. Feeling the cool material warm up over time is an added feature in itself while using during sex or solo.
The Doc Johnstone is also easy to clean giving little hassle as its stainless steel material makes it very hygienic to use which will save worrying about cleaning after a heavy session.
Pixie Mains Powered Magic Wand
Pixie knows best. Adjustable, powerful pleasure is what you get. Pixie Magic Wand is a plug-in massage wand that's sure to get the job done. With her 8 variable vibration modes that are totally customization to your pleasure, enjoy comfortable play, at your own pace. Pixie has unmatched power as she doesn't run on batteries, very comfortable and easy to use.
Simply plug and play with Pixie, no battery life to worry about so you can be sure you're never let down or left wanting more.
Signed by Beth